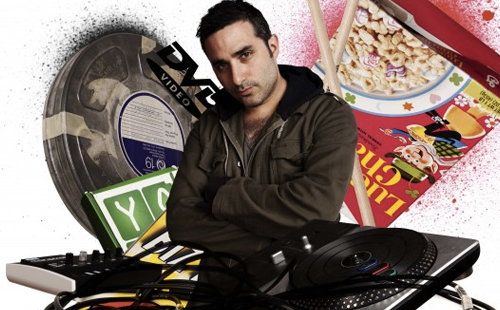 Style: Hip Hop, Dubstep, Mash Up, Funk, Elektro
Duncan Beiny aka DJ Yoda is no ordinary scratch DJ. His seminal How To Cut & Paste series showcased a tongue-in-cheek mixing style that prompted Q Magazine to declare him "one of the ten DJs to see before you die", whilst Hip Hop Connection voted him "one of the top three DJs in the world".
---
Style in 5 words:
Diverse, Visual, non-serious, Hip-Hop DJ
Genres that struck me first:
Rap and pop
Most influential artists:
Too many to mention! Could start with Q-Bert, Biz Markie and The Coen Brothers.
My three most successful tracks/remixes:
Wheels
Duelling banjos
Happy (feat. A boy called George)
Greatest moment of my career:
DJing for George Lucas and the crew of Star Wars!
What makes a DJ a DJ?
Bringing something to a party that can't be provided by iTunes shuffle. 
My favourite embarrassing tune:
I don't believe in embarassing tunes – you should be proud of what you love!
Weirdest thing that happened on tour:
Again – so many to choose from. Playing to a naked crowd in Canada was weird.
MP3 – VINYL: Why?
Whatever works for you as a DJ to do something cool and creative – I've used both. 
Shouts to the clubs & promoters
Big shout to anyone not conforming to boring, soul-less EDM!
More information and music:
DJ Yoda-official website
Facebook
Youtube
Soundcloud
Discogs
last.fm